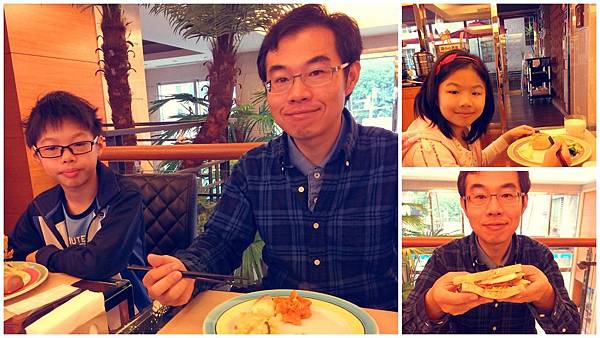 Have a simple but hearty breakfast in Les Champs.
Hotel Les Champs (press the link for more information) was the hotel where we stayed in Yilan at the end of our first day northern east trip. Starting from our honeymoon, about twelve years ago, whenever we plan to visit Yilan, Les Champs must have become a must-stay place.

Hotel Les Champs, rated by the Japanese publisher Shueisha as one of the "Top 50 Hot Spring Hotels in the World", located in Jiaosi on the east coast of Taiwan, is not a five-star hotel, but the service it provides gives us full of coziness and a strong touch of home. Wherever we stay in Les Champs, in the room, in the lobby, in the swimming pool, or in the restaurant, we feel like we are at home.
Jiaosi is famous for its hot spring. Classified as a sodium hydrogen carbonate hot spring, the waters are rich in minerals and so pure enough for people to drink even without boiling. That is the other reason we like to say in Les Champs. It is said that repeated hot spring bathing spring can promote feelings of physical and psychological well-being (see the link for more information).
Of course, it is not possible for us to bath in hot spring on a daily routine basis, but we grabbed this great opportunity to enjoy with kids bathing in the hot spring without caring too much about the wasting water thing. Basically, the restroom in each suite of Les Champs is equipped with the sodium hydrogen carbonate spring waters. Different from such the open area as the swimming pool, we were given more privacy and it is much more hygienic.
And this was the very first thing that kids were looking forward to as we talked about going on a trip. "I want to soak in the bathtub with you, mommy." Peggy smiled at me. "Me, too." Eric faced to Thompson (his dad) saying. For me, travelling is not only a good escape from trifle things on a daily basis, but a perfect way to gather wonderful memories between kids and us, for future to recall.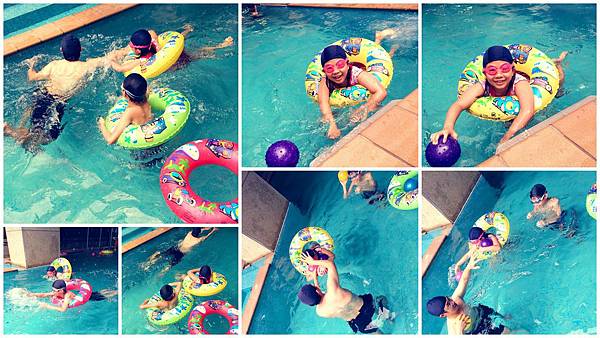 There is a fighting going on in the swimming pool of Les Champs.
Time flied. Today was the second and final day of our northern east trip in Taiwan. With half-full bellies fed by the simple but delicious cuisine provided by the Scenic Restaurant in Les Champs, kids couldn't help but dive into the Four Seasons Hot Spring Pool. Not before long, between kids and their dad was there a water fighting going on. Even standing on the edge of the pool, thinking it was none of my business, never did I expect I was involved in their serious struggling. I was half wet. But, at least, everyone was happy.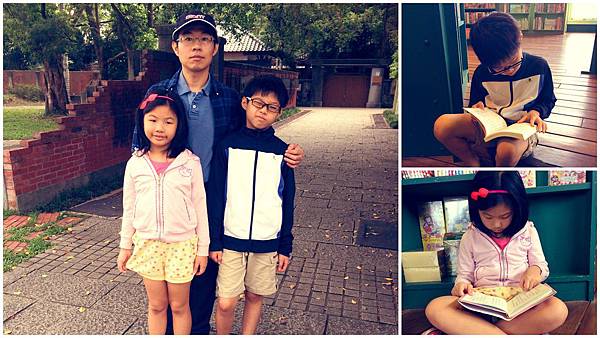 Take an easy and relaxing walk around Yilan Literature Museum.
At last but not least, we had to say goodbye to Hotel Les Champs. After checking out, we headed for Luna Plaza. Upon arriving the Plaza, it was not open yet, so we walked to Memorial Hall of Founding of Yilan Administration nearby for a very short touch of its tranquil atmosphere. Then, not until we read and bought some books in Eslite Bookstore came the time kids looked forward to, it was lunch time in Tasty.
Roasted duck and roasted steak are always on our must-eat list. Although Tasty was involved in the tainted cooking oil scandal recently, with the fact that we eat Tasty once or twice a year and that Tasty had claimed and turned to use other brand of cooking oil, we chose to believe and felt free to enjoy our big meal.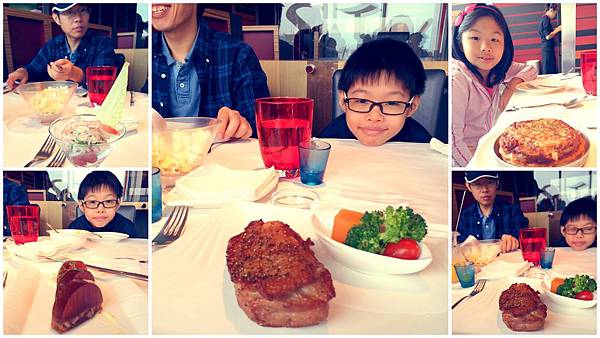 Read in Eslite and east in Tasty.
It was really difficult for us to tell kids and ourselves it was about the end of our two-day northern east trip after so much happiness, but we still had to. On the way home, in spite of being so unwilling to say goodbye to Yilan, not only our car was loaded with souvenirs, above all, our mind were also well refreshed by this trip. It seemed that we are reloaded with courage to face up to a new challenge in the upcoming future.