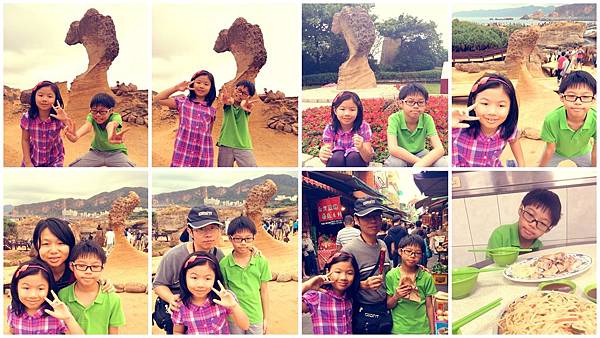 After our fascinating tour of Juming Museum, and before we headed for Yehiu Geopark, a little bit exhausted, we, starving to death, broke into a large crowd of people on Jinshan Old Street, long after we had a difficult time finding a place to park the car. As we were ready to leave, chatting with a fruit vendor, we came to realize that in season in Jinshan are water rice, besides taros and sweet potatoes. Most of all, crabs are in this season, too. No wonder, people mountain people sea everywhere, get a hearty taste.

To give a break for everyone's stomach, kids' dad, to satisfy the demand from kids, bought a sausage made from a black pig on a stick for four of us to share (It is said that black pigs are tastier and healthier than white pigs due to its low fat). And one charbroiled sweet potato, of course. Then, we were set off to look for the seats where we plan to sit for our lunch. Here, on Jinshang Old Street, comes a very unique sight.
Different from the eateries and delis in which you may go in, find a seat, give an order, and eat, those on Jinshang Old Street serve gourmands a lot more freedom. Before picking up what to eat, all gourmands need to go to a sitting area, a little bit away from the place where foods are served. It is a two-floor building. Usually, once seats are not occupied, almost everyone can find a place right away. But, no promise on weekends.
When in Rome, do as the Romans do. Even though we were kept waiting and it took us about 10 to 15 minutes to wait for vacancy, we had a great time enjoying the delicious fresh duck, a large portion of fried noodles, and crispy fried shrimp roll. To be frank, I really wanted to give the crabs a try but in vain. There were so many people attracted by the mouthwatering of aroma standing in front of the eateries grabbing foods in an uncontrolled way.
A full meal refreshed our bodies of four and found our strength back to Yehliu Geopark. People mountain people sea, again?! From countries all over the world came the tourists. Judging from the chattings, among those tourists, most of them are from Mainland China, some are from Korea and Japan, and others are from western countries. Until now I've believed, Taiwan is eventually reborn into an international country. To see is to believe.
4:20, it was a bit late as we arrived. It was cloudy. A gentle cool breeze was blowing. But, the peculiar natural wonders indeed opened the minds of kids, and us. Yehilu Geopark is famous for its sea-erosion landscape and divided into three areas (more information see this link).
The first area is made up of mushroom rock group and ginger rock. On top of the area, we saw the famous candle rock. In the second area, we were amazed by the 4,000 year-old Queen's head, a kind of mushroom rock and one of the most famous scenes in Yehliu. She gets her title because she looks like the side face of Queen Elizabeth. And Cute princess for sure. She may succeed to be the next Queen's head if the Queen's head whose neck is around 138 cm couldn't undertake the devastation both from natural erosion and by man and ends up collapsing.